The Village of Loon Lake is a community of almost 300 residents, located between multiple beautiful lakes, farmland and the lush boreal forest in Northwest Saskatchewan.
Located only two miles from the popular Makwa Provincial Park, which has 300 campsites and a challenging nine-hole golf course — one of the best in northwestern Saskatchewan.
This is also cabin country — and there are currently over 400 of them on Makwa and Jumbo Lakes.
Recent Bulletins, Notices, Events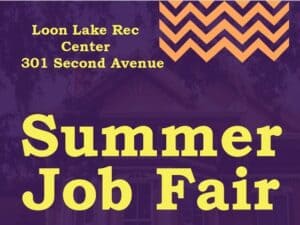 By Spurgeon Root in Loon Lake, Reminder for those that want to attend, Please let us know ASAP, we NEED 15, currently only have 7. April 13 and 14 from 9 am to 4 pm Anyone interested please phone the RM Office 306-837-2076 Please Register before April 3, 2023. We Need a Minimum of 15 People In order for the Course to put on.
Read More »
Looking for someone to take over organizing the Farmer's Market. Valli Cleal is looking to step down from being Organizer for the Farmer's Market. The Farmer's Market usually runs from June to Labor Day Weekend. For more information, or to step up, please contact Valli at 780-861-0459 or via email vallicleall444@gmail.com
Read More »
March

2023

Sun
Mon
Tue
Wed
Thu
Fri
Sat

6

BINGO - Loon Lake Rec Center

•

13

BINGO - Loon Lake Rec Center

•

20

BINGO - Loon Lake Rec Center

•

27

BINGO - Loon Lake Rec Center

•